WLAN Solution for Hospital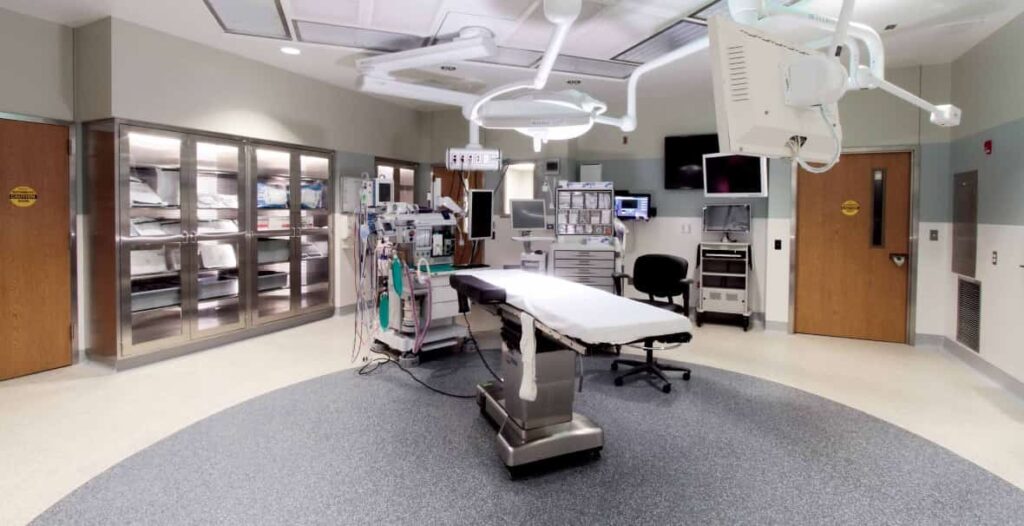 Brief Introduction
As the development of information, digital mobile medical system become more and more important in hospital, like mobile rounds, mobile nursing, executive orders etc… As this trend, wireless network is an essential condition for this digital mobile medical system. What's more, the convenience wireless network provide more entertainment for patients and their families.
Requirement Analysis
High requirement in data security to avoid patient's data is stolen.

As people high mobility in hospital, the wireless network system should be high security to avoid Hacker intrusion, and the device should be not easy to take out also.

As the digital mobile medical system should be work in 24 hours, it request high bandwidth stability, no latency.

Easy maintenance to keep the whole wireless network stable.

Data isolation and bandwidth control is required. Because doctor and nurse's network should be segregated between patients and their families: What's more, bandwidth control can limited visitor's bandwidth to provide more resources for doctor's
Network Potology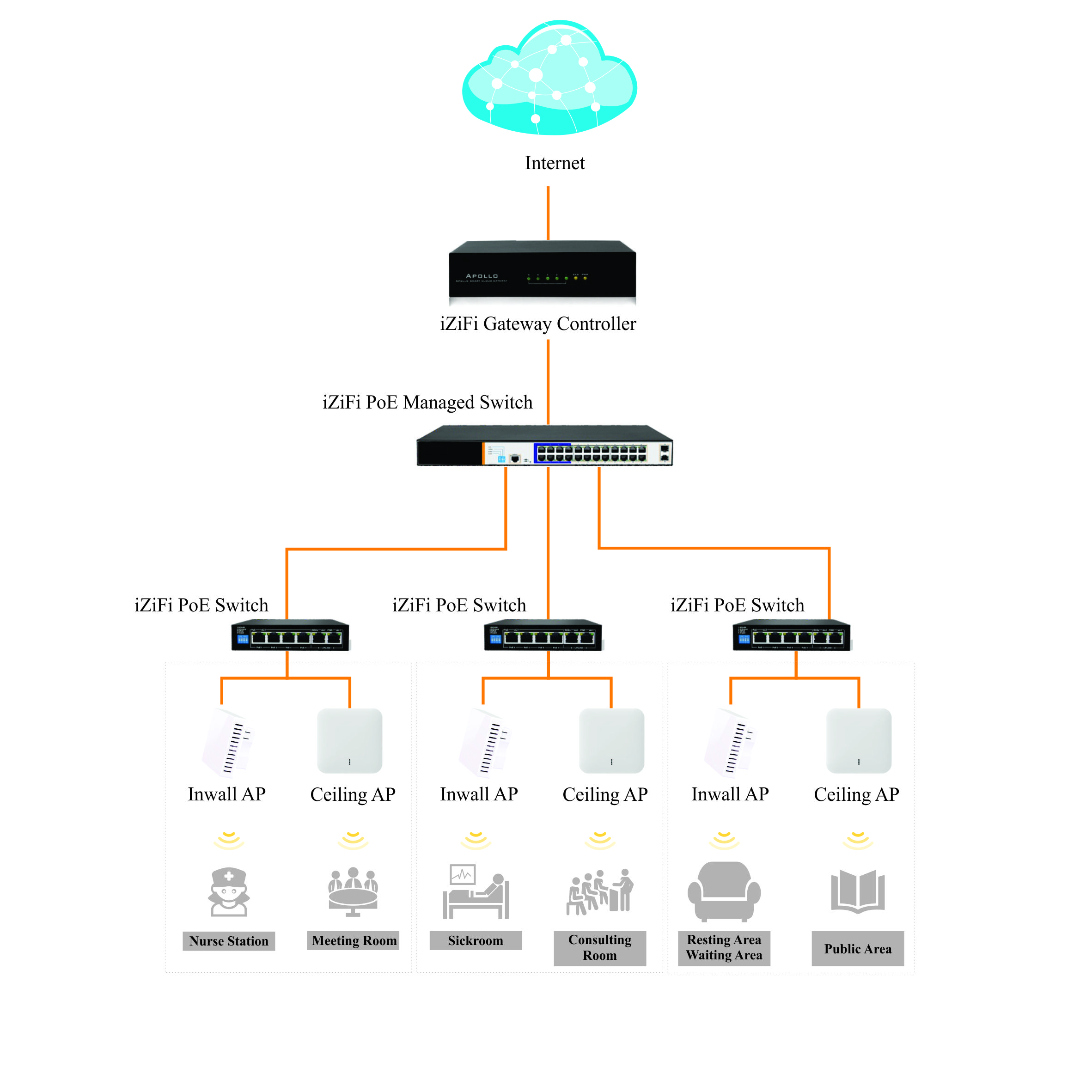 Installation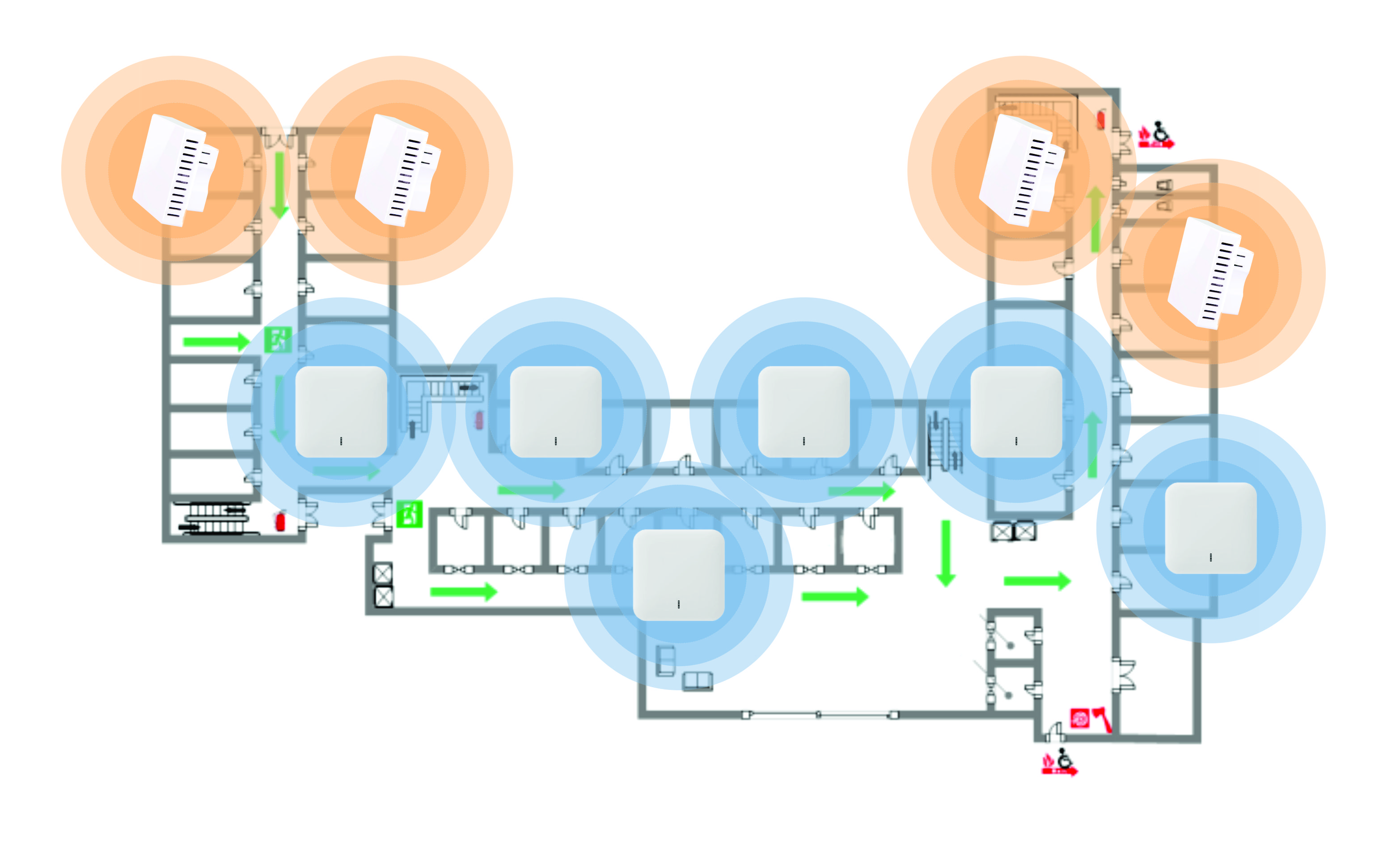 Features
Gigabit High Speed Internet
Use Gigabit PoE Switch, with Gigabit Up-Link, ensure high-speed data transmission, provide faster Internet access
Full WiFi Coverage with Seamless Roaming
Adopt AC Controller (Authentication Gateway) + Wireless Access Point, provide seamless wireless coverage for hospital, doctor and nurse can work well with the hospital management system even they are moving between different wireless access point coverage.
Centralized Configuration and Management
AC Controller (Authentication gateway) automatically to detact all the connected wireless access points, distribute IP address for each wireless AP, zero configure SSID, password, channel, VLAN, RF power in a single PC, easy to achieve the installation and management.
Data Isolation to Ensure Network Secure
Most VLAN Switch support port isolation; Then wireless AP support multiple SSID, different SSID banding with different VLAN ID to do data isolation; different users access into different SSID to protect the whole network security.
Multiple Authentication and Advertisemnt Promotion
Works as Authentication gateway, AC controller can access into cloud server, realize captive portal authentication, such as Facebook/ Google/ WeChat/ Member login, supply wireless access after information/advertise promotion, even can collect users browse record and contact information for second time sell.
AC Controller (Authentication Gateway) access into cloud server, then administrator can access into cloud server and login AC controller's web interface to do the management and maintenance at any time and any place, simple and cost saving.
Smart Bandwidth Control to provide a stable wireless Network
Support smart bandwidth control, limit visitor's bandwidth or network behavior, provide priority for hospital's normal working.
Device List
Product

Model

Authentication
Gateway and AC Controller

SG250

PoE
Switch

IS-M24G2S

Ceiling
Wireless AP

XD4200

In-wall
Wirelss Access Point

L520